Yummy Hot & Sour Soup For Day 1 Soup 1: Vegetarian Hot & Sour Soup Recipe
So, did I tell you?
My sister and I have decided to go on a soup diet. As in, for lunches and dinners since this last week, we have had only soups, different types of healthy, hearty, homemade soups. Breakfast is of course as normal and so are our (mostly unhealthy) snacks, but at least something's changed for the better.
So most of the soups I make are quick and easy. I am no kitchen queen. So I do like to keep things simple. Except when I go oriental of course. For then, I spend a good few minutes ensuring my vegetables are cut just right before I get down to the actual cooking. After all, the size of the julienne definitely affects the overall taste when you're cooking oriental or Chinese.
So here's my sweet and sour soup recipe, or rather Soup 1 from Day 1 of our 10 Day, 20 Soups Challenge!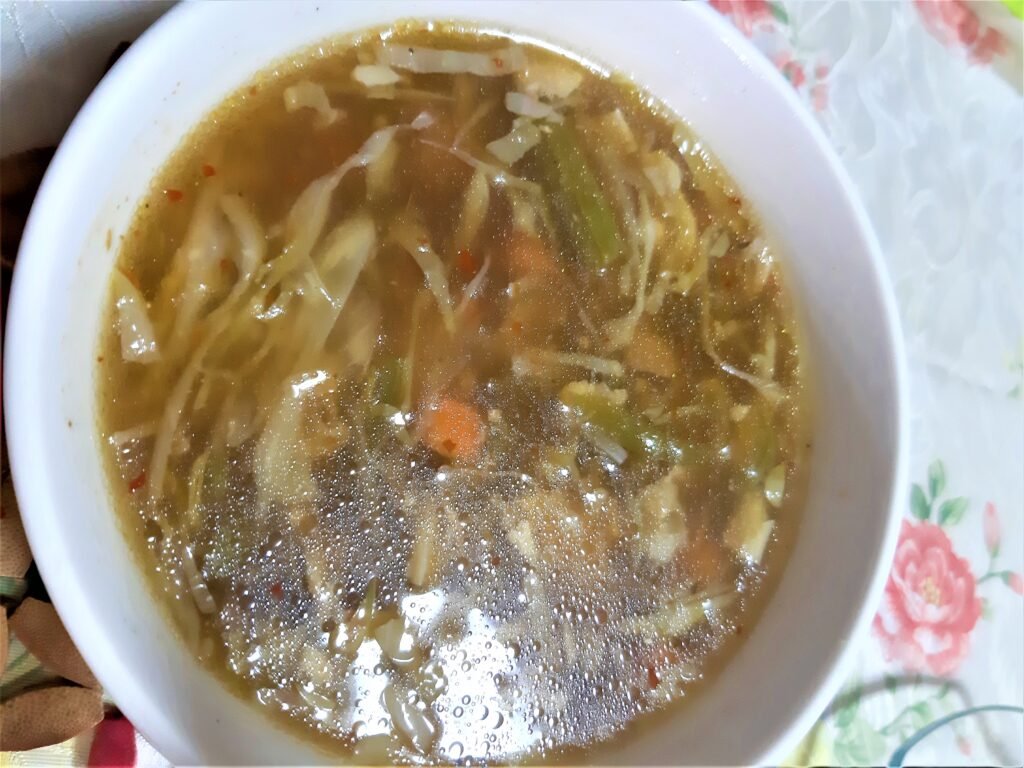 Hot & Sour Soup Ingredients:
(To serve 4)
A quarter of a large cabbage – very finely sliced
A large carrot – finely sliced and julienned
10-12 button mushrooms – finely sliced
5-6 large French beans – finely chopped
½ Capsicum – finely sliced after removing the seeds
1 small onion – finely sliced
4-5 tbsp dark soy sauce (I prefer my soup with more soy sauce, you can decrease the quantity if your prefer lighter soups)
2-3 tbsp vinegar
1 tbsp chilli sauce or chilli paste (I like my hot and sour quite spicy)
2-3 tsp ginger garlic paste
2-3 tbsp corn flour or any other thickening agent of your choice
2 to 3 tsp cooking oil of your choice
Salt & pepper to taste
Hot & Sour Soup Instructions:
Heat a wok and add the oil. Keeping the flame at medium-low, add the ginger garlic paste. Sauté for a second and then increase the flame to medium-high. Add all vegetables except mushrooms and toss the wok without lowering the flame. Add 4 to 5 cups of boiling hot water to the tossed vegetables. Don't worry about the soup being watery as a thickening agent will be added later.

Lower the flame to medium-low and add the soy sauce, vinegar and chilli sauce or paste. Mix well.
In a separate bowl, add a little cold water to the corn starch and stir the mixture to form a smooth paste with no lumps. Add this mixture to the boiling soup and stir continuously. You can increase or decrease your cornflour batter depending on whether you prefer your soups to be lighter or thicker. Once the soup adjusts itself to your desired soupy thickness, turn off the flame. Add salt and pepper to taste. Remember that soy sauce is salty on its own so resist the temptation to add too much. The reason we add the salt at the very end is also that, as the soup thickens, the salt concentrates. Adding it at the very end ensures that you are not adding too much.