Vegetarian Japanese Miso Soup with Mushrooms & Seaweed: Day 5, Soup 1
Okay, I grant you this.. that this is not an everyday soup made with everyday ingredients. But if you like Japanese food, especially soups and ramens, this one is for you.
When you make things at home, you can be sure to keep this vegetarian or vegan as per your dietary preferences. When you have the same outside, it all boils down to 'do you trust your server when he says yes, this is vegetarian'. This is especially true with East Asian cuisines, so heavy on fish sauce and meat broths, and so un-aligned with the Indian concept of vegetarian where eggs and fish are not considered to be so.
Before we start, what is miso? For those that do not know, miso a fermented seasoning native to Japan. It is traditionally made by fermenting soybeans with the koji fungus, but it can also be made with barley and other grains. By itself then, miso is inherently vegetarian. But just in case you are worried, you can buy your miso from any Asian variety store and check the ingredients or the 'suitable for vegetarians' mark before you buy or use it.
What does miso taste like? It is a mix of salty, umami and savoury. A good taste. And no, unless you are exceptionally picky (like my mom, who also has problems with button mushrooms and cheddar cheese), you won't have a problem with the way it smells either.
The seaweed here needs to be carefully selected. For seaweed, even dried seaweed does smell (not everyone hates the smell, but many do). Sadly, the one I use comes in a packet with everything written in Japanese. A friend recommended it to me and it suits me just fine. Unless you have a reliable Japanese or Korean friend, I am afraid this will be a trial and error for you. You can also use nori sheets instead of dried seaweed or kelp for this soup and indeed you can omit it altogether as well. I have tried this same soup with different types of mushrooms and some lightly sauteed bok choy (instead of the seaweed) and it was just as yummy thanks to the miso!
So improvise as necessary. Here's what my Japanese Miso Soup with Mushrooms and Seaweed looks like.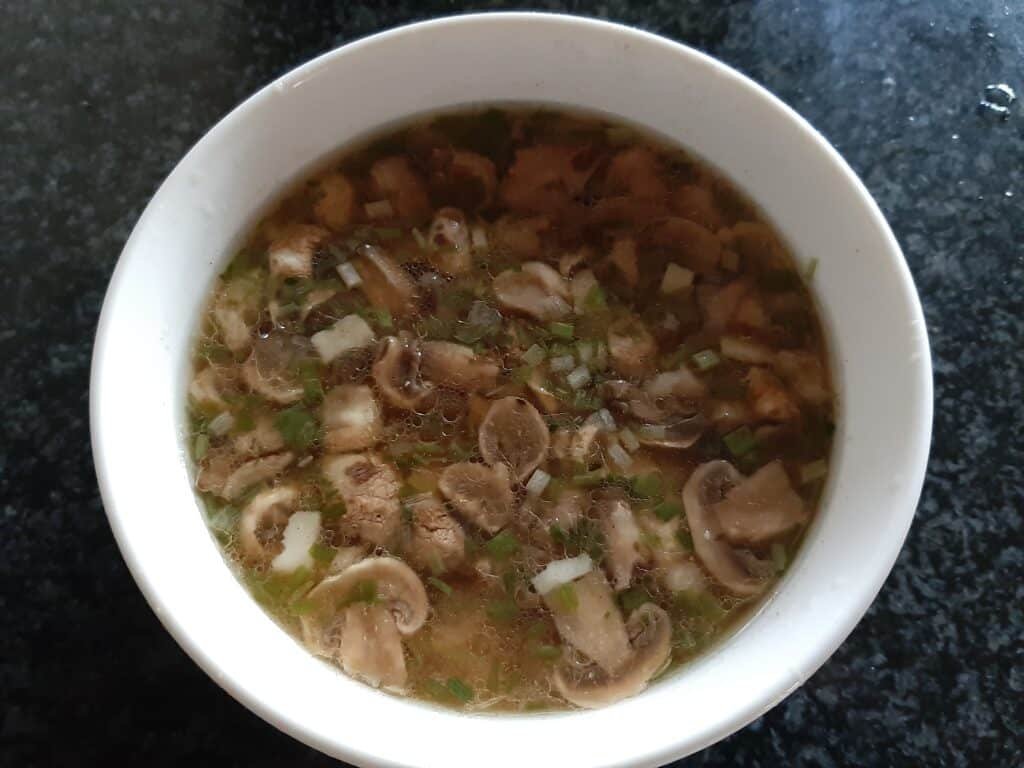 Vegetarian Japanese Miso Soup Ingredients
Serves 2
A handful of mushrooms of your choice ( I used button but brown and shitake also go well in this soup), thinly sliced
Some dried seaweed / kelp, soaked in hot water
4 packets of miso (small finger-sized packets where one packets is usually for 1 bowl of soup, I use double the usual quantity since I like my soups more salty / umami)
1 tsp garlic powder
1 tsp onion powder
2 tsp sesame oil
Any other greens that you may wish to add to the soup
Vegetarian Japanese Miso Soup Instructions
Traditionally, miso soup looks and tastes different, it even has different ingredients. But to make my version of vegetarian Japanese miso soup, you just need a few minutes of your time and hardly any kitchen skills.
In a soup pot, heat the sesame oil and fry the mushrooms till all the water in them has evaporated. Add the garlic and onion powders, your choice of greens and the now soft seaweed/kelp. Stir fry for a few minutes and then add 3 to 4 cups of boiling hot water.
Add in the miso paste and stir well so that the miso paste does not leave lumps in the water. Boil for a few minutes and serve hot. Since miso is also ready salty, there is usually no need to add extra salt. But if you need your soup to be a bit saltier, you can add some more according to your taste.
I prefer to use one more packet of miso instead of salt if indeed my soup tastes a little bland. And that is the reason my miso soup looks so dark tan or dark brown in colour when compared to other miso soups out there.
Try it and let me know if you like the taste of miso and if you have made any variations to your recipe, I'd like to know that as well.