Vegan, Spiced Kidney Bean (Rajma) Soup: Day 5, Soup 2
Rajma (red kidney beans) is quite a staple in Indian households. Not to mention that it holds high quarantine/lockdown value when you run out of veggies and wish to avoid a shopping trip until you have at least 10 items on your shopping list.
So, as with most Indian foods, this ingredient list for this soup is slightly longer than all the others. But then again, this soup is tastier than most of the others too. Not to mention that it is right in proteins and a good number of micronutrients. It is also filling and just perfect for those are constantly hungry and snacking between meals.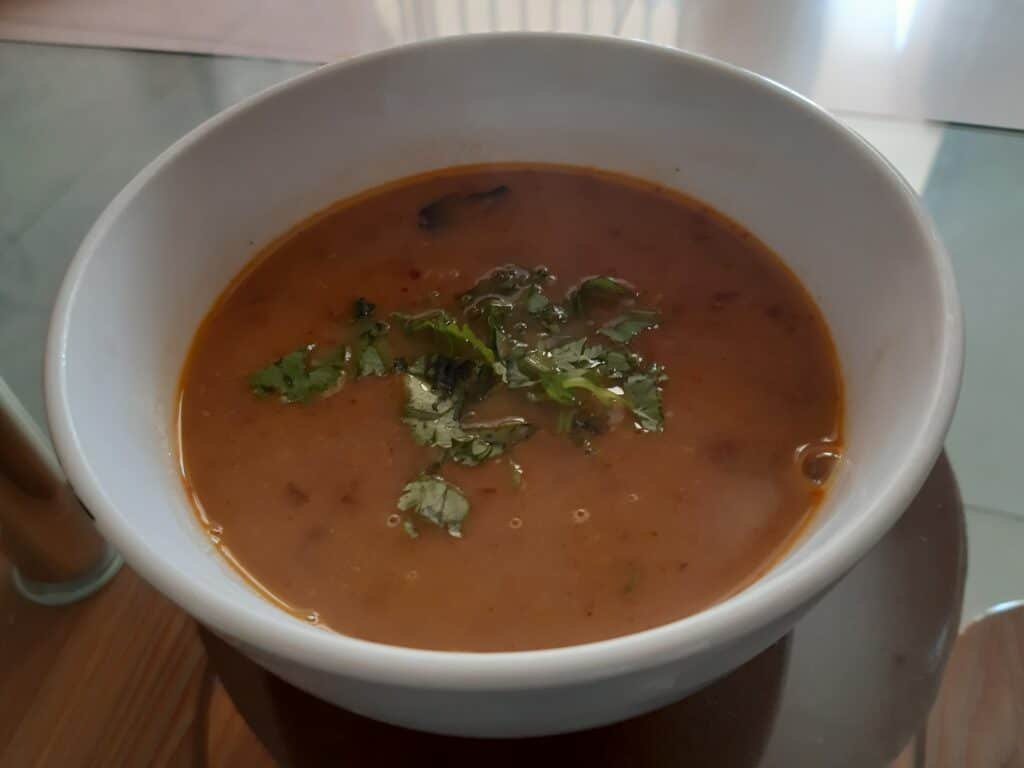 Spiced Kidney Bean Soup Ingredients
1 soup bowlful of kidney beans, soaked overnight
1 large tomato, roughly diced
1 large onion, finely chopped
2 to 3 cloves of garlic, finely chopped
2 tbsp fresh lemon juice
1 tsp turmeric powder
1 tsp red chilli powder
1 tbsp garam masala / chana masala / chole masala
2 tbsp cooking oil of your choice
2 bay leaves
Salt to taste
Spiced Kidney Bean Soup Instructions
In a pressure cooker, heat some oil. Add the bay leaves and let them brown. Then add the finely chopped garlic and onions and fry till the onion browns slightly. Add the turmeric, chilli powder, and garam masala and give the mixture a good stir. Add in the tomatoes and sprinkle some salt to taste.
Once the tomatoes have softened, add the soaked rajma (red kidney beans). Seal the pressure cooker and on a medium-low flame, let the contents pressure-cook slowly for about 3 to 4 whistles.
Turn off the heat once done and let the contents cool. Once you open the pressure cooker, remove a few spoonfuls of the cooked red kidney beans and keep aside. Blitz the rest of the contents into a soupy puree. You can add a little water if necessary.
Transfer the puree back into a pot and heat . Don't forget to add the few spoonfuls that you had set aside. These pieces add some texture to the otherwise smooth puree. Before you serve, don't forget to stir in the lemon juice and garnish with fresh coriander. Enjoy!