Healthy, Spicy Urad Dal (Black Lentil) Soup: Soupy Dal for Day 4, Soup 1
For Indians, this healthy, spicy urad dal soup is really just dal. But this protein-rich spicy dal is a revelation in this soupy format. Try it before you judge. It goes really well as a change from the usual soup recipes that are a part of this 10-day 20-soups challenge.
We change from continental to Indian, and more importantly, authentically Maharashtrian, for this dal soup recipe, comes with a beautiful Maharashtrian twist. This recipe calls for one authentic Maharashtrian ingredient, dried amsul (kokum) (a dried form of garcinia indica).
Mind you, you can make this recipe perfectly well without the amsul. Just squeeze in a lemon once you are done with the recipe. But if you do get your hands on some amsul, there really is nothing like it when it comes to taste.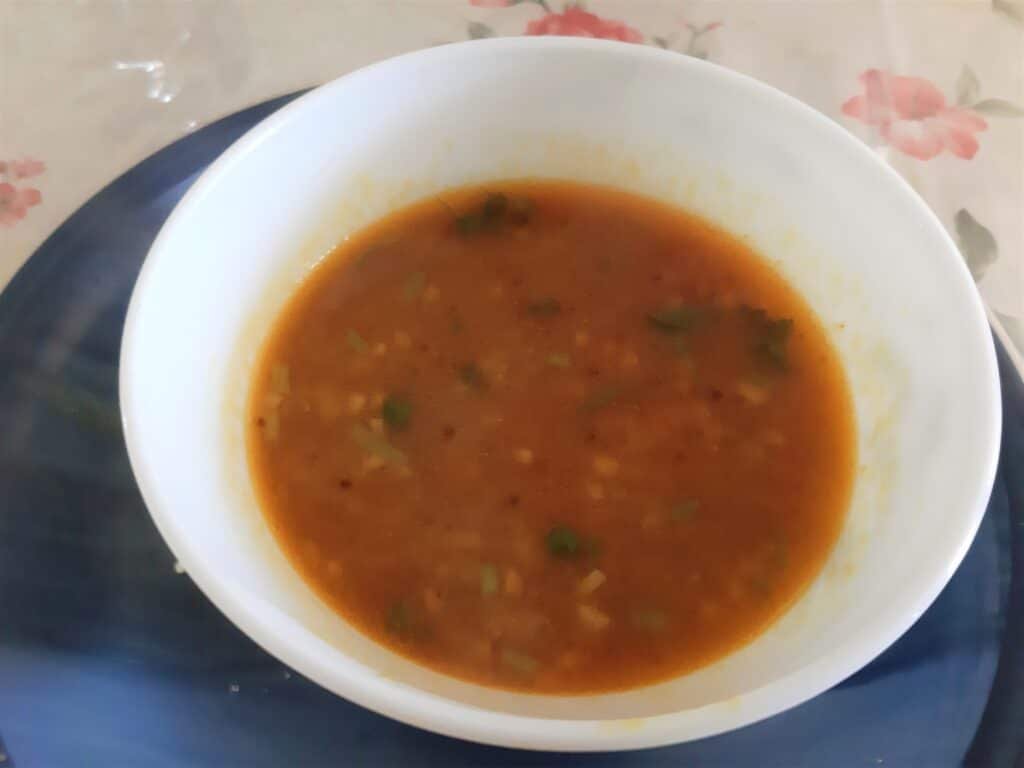 Spicy Black Lentil Soup Ingredients
Serves 2
1.5 cups urad dal (black lentil), soaked in water for at least 2-3 hours
4 – 5 cloves of garlic, finely chopped
1 tsp turmeric
2 pinches of asafoetida (hing)
1 – 2 tsp red chilli powder
3 – 4 pieces of amsul or 1 tbsp of lemon juice
1 tsp of mustard seeds
2 tbsp cooking oil of your choice
Coriander for garnish
Salt to taste
Spicy Black Lentil Soup Instructions
Pressure cook the black lentils (urad dal) for about 3 whistles or till fully cooked.
In a hot soup pan, heat the oil. Add the mustard seeds. Wait for them to cackle, then lower the flame and add the finely chopped garlic. Once the garlic starts to brown nicely, add the turmeric, asafoetida and chilli powder. Stir well.
Next, add the cooked urad dal (black lentils) to this pot, add salt and mix well. Add some boiling hot water and stir well. Once the water is boiling nicely, add the amsul. Cook this well for about 2 to 3 minutes on low flame.
Take the pot off the flame and remove about one-quarter of the contents in a separate bowl. Using a hand blender, blend the remaining contents in the pot to a smooth, soupy texture. Once done, add the separated ingredients back to the pot. Heat once again, garnish with fresh coriander and serve hot.