How to Pick Pinterest Keywords for Your Pinterest Profile & Description?
Pinterest keywords are a big part of Pinterest SEO. And just as Google SEO works to give you better visibility and organic reach, Pinterest SEO helps with the same. Pinterest keywords should be strategically places in your Pinterest title, description, pins, pin titles, pin descriptions, board titles and board descriptions too.
Did you know that just by setting up your Pinterest profile right, you can set yourself up for greater organic reach on Pinterest? In other words, just by setting up your Pinterest profile correctly, your Pinterest pins can reach wider audiences without having to spend a penny on sponsored pins or run Pinterest ads.
Check this article to learn how to set up your Pinterest profile name and description right, but for now, let's look at how we can pick the right keywords for our Pinterest profile in under 5 minutes. Yes, it's that easy.
How to Pick Keywords for Your Pinterest Profile Name?
That's easy peasy lemon squeezy. Just go to the Pinterest search bar and type in your broad keyword, the broader the better. For example, in my case, I typed in 'travel' and hit the search button.
Then you glance through the coloured boxes that pop up underneath. Pick a couple of relevant ones. The order doesn't matter much, because Pinterest's algorithm is quite good at picking up words and making different permutations and combinations out of them for different keywords. So just pick a few words and make up a legible phrase to go up with alongside your name or business name in your Pinterest profile name.

A note to remember. Your Pinterest profile name is not your profile username or URL, so you can relax there. For example, my Pinterest profile URL is up for @yotripphotels, but my Pinterest name is profile name is YOTRIPP | Wanderlust | Travel Inspiration & Destinations. Your Pinterest username should be anywhere between 3 and 30 characters without spaces, but your Pinterest profile name can be 160 characters in total and can have spaces or special characters in between.
The idea of choosing the right Pinterest profile name is to give both Pinterest users and Pinterest bots an easy way to identify what the account is for and what it could be about without having to dig deep into the boards or pins saved.
How easy was that! Right?
How to Pick Keywords for your Pinterest Profile Description?
Board descriptions can accommodate 500 characters and if you do your Pinterest SEO right, this is enough space to get in all the right SEO keywords loaded onto your Pinterest profile. The trick to writing good Pinterest descriptions is thus to write longer ones and make use of all character allowances. You should maintain natural sentence flow while you stuff in as many of your target keywords into your profile description.
Remember, that the keyword exactness does not matter much on Pinterest as the algorithm does a great job of identifying words and putting them together appropriately. For example, travel tips can be written as travel hacks and tips and it will still count. Yay!
So here's exactly what you do.
If you pin about travel, just make a list of travel keywords that you have targeted in your recent blogs. For example, for me, my blogs were about various travel destinations and places to see in the Asia Pacific. I also blogged about hotels, travel hacks and adventure travel.
So all I did was plug in these keywords in the Pinterest search bar and do the exact same thing you did for the profile name. Plug-in the keywords and then look at the coloured box suggestions. Pick up the ones that matter to you and once you a list of them, formulate complete sentences that make sense to readers using them.
You can see the Pinterest description for my profile in the photo below.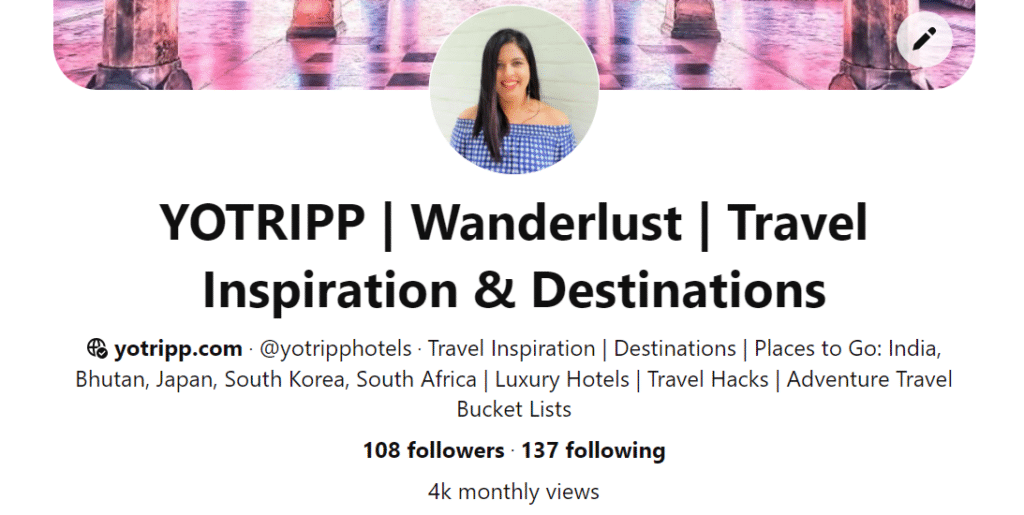 This post is part of Blogchatter's A2Z Challenge.