Every once in a rare blue moon, you come across an underrated, under-appreciated masterpiece… and that masterpiece is Na-ui ajeossi or My Mister. This phenomenal, powerhouse of a drama releases on Netflix tomorrow, so it is time to give it a spotlight, the limelight that it greatly deserves.
But before we proceed, there are some things that you should know:
1. If you like light, warm, fluffy Kdramas that teleport you to a fantasy world, DO NOT watch this one. It is as real as real gets. DO NOT go in expecting whites and golds, beautiful locations and heart-stopping romantic scenes. Expect black, expect grey and expect a whole lot of emotions that cannot be tagged as romance or (youthful) love. Expect depth.
2. If you like beautiful characters, rich, savvy and aspirational, DO NOT watch this drama. Here, every character is a failure. Every character is hurting, every character is struggling, every character has demons and every character is 'a little bit let down' by life in general.
3. And lastly, if you are a Kdrama newbie, this is NOT appropriate first-timer material. This drama is an epic, it has layers, it has nuances, it has inexplicable relationships, secrets, inner demons, and some hard-hitting life lessons.
So then, why should you watch this drama?
Because if you persist and get through the first 25 minutes of episode number 1, you will be hooked onto a mind-blowing story, through and through. This drama did not rake up the TRPs in Korea (because the older man-younger woman dynamic is frowned upon in Korea), but the drama is a cult with international audiences. And with good reason.
Even giving you a little gist of the drama would be revealing too much of an incredible story, so I can only say this.
This is a story of a young girl with a terrible secret and a middle-aged man on the verge of a breakdown. It is a story of symbiotic relationships.
It is about drawing strength from someone else, without words, without agreements and without any expectation of something in return.
As you move through the episodes, you will fall in love with these two dejected people holding on to each other when the going got tough.
Fighting for each other, standing up for each other and looking out for each other without there being a single relationship tag between them, and that too, behind the scenes.
Without there being any promises or any future to look forward to. And without there being this grand romance. Just two people at the lowest points in their lives, wading past the dejection and picking themselves back up to face life, thanks to the invisible support of the other. A nameless, tag-less symbiotic relationship.
Try it, it is intense, it is emotional and it is real.
Far more real than the knight in shining armour, is this brooding old man who would pick up a fist-fight with someone almost half his age for the girl he has come to care for.
Far more real than wonder woman is this young woman who will put herself before any and all harms coming in the way of the man she has come to care for.
And both know, this 'care' has no name and it will never have one.
My Rating: 8.5/10 (0.5 extra for IU's brilliance)
Pros: Excellent story with unexpected twists, brilliant casting and phenomenal performances
Cons: Slow screenplay at certain times, and too many side characters and side stories to keep track of even though they are amazing in their own way.
My Mister gives you a taste of what a good story should have… it has sinister schemes, violence, dejection, guilt and love, minus the romance.
My Mister is IU (Lee Ji Eun) best performance yet. When has managed to convey her emotions and make viewers identify with her character with literally the fewest dialogues any main character in any KDrama could ever have. Lee Sun-Kyun on the other hand and as always is effortlessly identifiable as the gentleman who is worried about values, ethics and reputations.
So if you are ready to graduate past the Cinderellas, mermaids and rich chaebol heirs, this is THE drama to test the waters and see how you fare on the reality scale.
Some More Insight (Some Spoilers)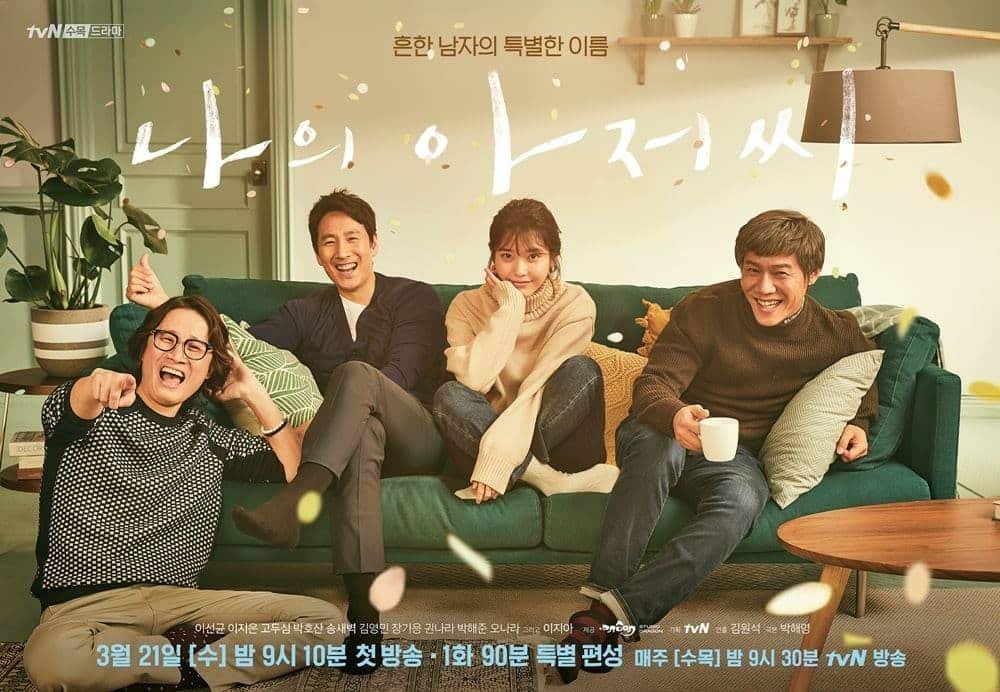 The story revolves around a young girl, not even out of her teens yet, but struggling with life in general. She harbours a terrible secret, is always on the run, and is burdened with responsibilities she refuses to run away from. Always finding herself on the wrong side of town has made her street smart and ruthlessly self-serving, not to mention hopelessly dejected when it comes to expecting something good from humans.

Then there is a guy, middle-aged and straight-laced. He has never done a wrong, conscience-pricking thing in his entire life. He loves his family and struggles through the politics of his job holding his head high even when he is ridiculed, demoted or set up. He is also the support for his two unemployed brothers and an aged mother.

The story is a beautiful narration of symbiotic human relationships.

Two humans. Completely opposite in every way, coming to care for each other, coming to look out for each other and support each other without any romance, any promises and any agreements.

Though the story is indeed about the two central characters, every other relationship in the drama, every other character in the drama is beautifully sketched out and has legible character and story growth. Be it the loan shark nemesis of the female lead with his love-hate battle, or the brotherly dynamics between the three brothers.
Be it the inner dynamics of a married couple, or the guilt of the cheating spouse who one would love to hate, but cannot once she gives her side of the story. Be it the heart to heart communication between a mute grandmother and her filial granddaughter…
Every little scene in the drama, every little dialogue leaves a mark on your psyche. Every character is important and has a little something to teach. And the story, wow the story, it is incredible. If I told you this was a love story, it would be wrong. If I told you it was a relationship story, it would not hold adequate depth. If I told you it was a melodrama, it would be completely unfair to the feels this drama brings into your life.
So what I can tell you is this. If you are someone with a high EQ, if you like stories with depth, multiple layers and nuances, and if you like to feel in a way that crying is just not enough because really, it is too complex an emotion than just sadness, just take my word for it. Watch this one. You will not regret it.