Easy Aliv Ladoo Recipe: Garden Cress Seeds & Fresh Coconut
If you follow Rujuta Diwekar on social media, you may have recently discovered the wonders of Aliv (marathi), also known as halim in Hindi and garden cress seeds in English. And if you're a Maharashtrian, like me, you've probably known of aliv laddoos (and enjoyed aliv laddoos) almost all of your lives.
In Maharashtrian households, aliv laddoos are traditional winter food. They are also the traditional foods prescribed for women who have just delivered, lactating mothers and hormonal teens. We may not have known the nutritional science behind it, nor the health benefits for that matter. But who cared, when mom lovingly made them, they tasted delicious and were surprisingly filling.
At least I never did. I loved them so much that there were times my mom screamed, 'bas ata, ushnata hoil' (stop hogging them all in one go, you'll suffer heat-related issues). I remember a few times where she even had to hide the dabba (container) out of sheer desperation.
Yes, I know, I've been lapsing in frequent Marathi in this post. But I know you'll excuse me for it is the pride spilling over. After all, I am about to give you my mom's own, easy and traditional aliv ladoo recipe. So I am sure you'll give me the leeway.
So let's get down to it with the recipe first. Still to the end and I'll list out the health benefits too. Please note that this is not a vegan aliv laddoo recipe since my mom uses a few spoonfuls of ghee in it. You can of course leave out the ghee and enjoy its vegan version. Though it must be said that the micronutrients in aliv are only fully absorbed by the body if they are taken in with some form of fat. That said, the choice is yours.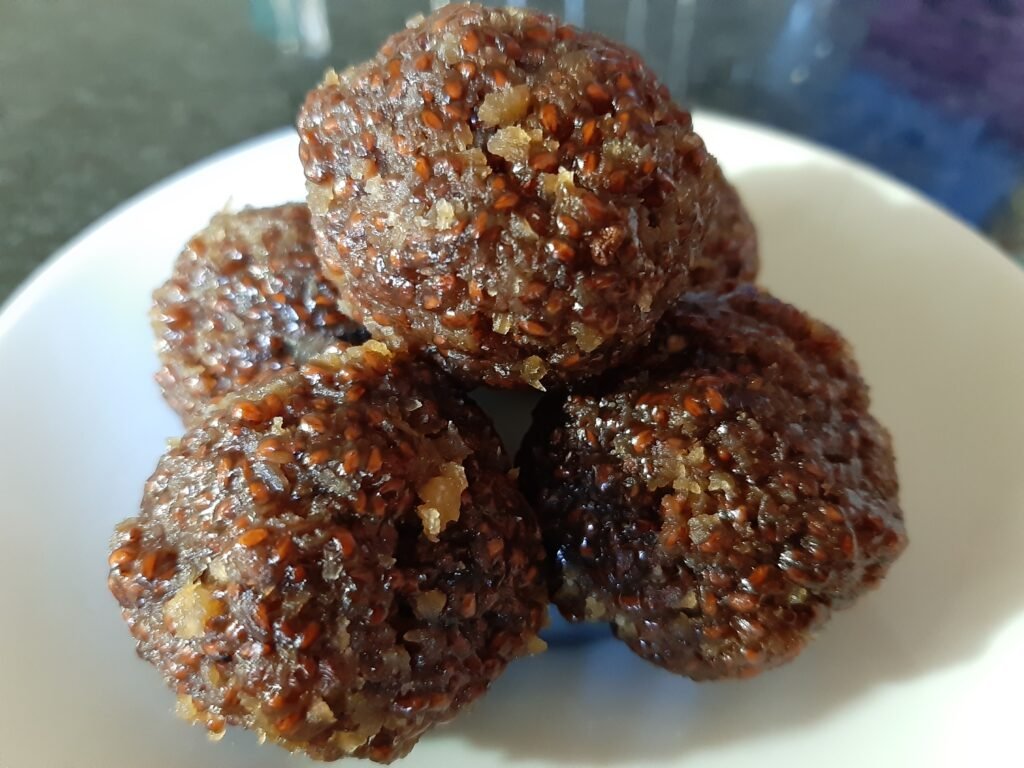 Aliv Ladoo Ingredients
1 cup aliv seed (also known as halim seeds or garden cress seeds
1 full coconut, freshly and finely grated
250 gms of jaggery (gul)
4 tsp ghee
Soaking time: overnight
Making time: 20 minutes
How to Make Aliv Ladoo: The Recipe
Soak the aliv in water, with about a fingertip measurement of extra water. Soak them overnight and drain them well in the morning.
After you have ensured that all excess water has been removed, add in the grated coconut and the jaggery. Mix well. Since the grated coconut already contains a lot of moisture, you can now cook this mixture on a low to medium flame.
Ensure that you keep stirring the ingredients as the jaggery begins to melt, otherwise, the mixture will stick to the pot and burn. Add the ghee. Keep cooking till excess moisture evaporates and the mixture is at a consistency where you can easily made laddoos out of it.
The remove the pan off heat and let it cool slightly (not completely). Once the mixture is cool enough to touch, spoon some in the palm of your greased hands and roll into smooth and round laddoos.
Drizzle some coconut on the laddoos and then they are ready to be devoured!
These laddoos easily last a week or so at room temperature and can last even longer if refrigerated.
Health Benefits of Garden Cress Seeds (Aliv)
Aliv seeds promote postpartum recovery and improve lactation in new mothers.
The vitamins, folic acid, iron and other micronutrients in aliv boost general immunity.
Aliv seeds can assist in pregnancies for women struggling to get pregnant or women having fertility issues.
Aliv seeds ease the symptoms and discomforts of menopause, including patchy skin issues and breakouts.
Aliv seeds can prevent hair loss in people suffering with alopecia or pattern baldness.
Aliv seeds are rich in protein and aliv laddoos are fantastic protein dense snacks for kids.
Aliv seeds promote digestive health by easing constipation and indigestion.
For teens with irregular menstrual cycles, aliv can improve menstrual health and bring about period regularity.
Aliv helps improve haemoglobin levels in people with low haemoglobin.
Aliv seeds can help cure PCOD.
Aliv seeds have immense health benefits but one should not go overboard in having them. Aliv seeds can hamper the absorption of iodine and are hence not recommended over a recommended limit of 1 tsp a day or one laddoo every few days. Aliv seeds should also be avoided by pregnant women as they can cause premature uterine contractions.
P.S this post is part of Blogchatter's My Friend Alexa Campaign.