The Incredible Survival Story Of Nakshi Kantha in Bangladesh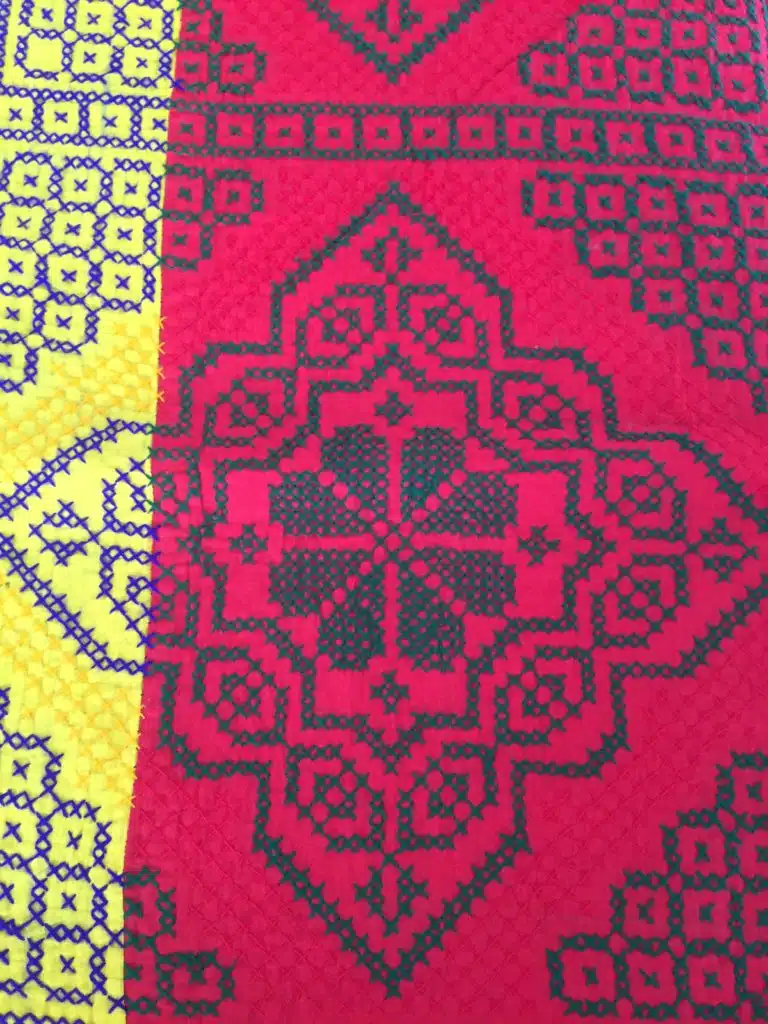 The words 'Kantha' or 'Nakshi Kantha' etymologically belong to an ethnic Bengali art form of quilting. While quilting is actually a world craft and many countries across the globe have their own forms of it; 'nakshi kantha' has very particular thread work and belongs specifically to communities in Bangladesh and West Bengal (India).
Traditionally, the craft was a household one and used to entail the reuse of old fabrics, rags and sarees. Women in Bangladesh have been lovingly giving away handmade nakshi kanthas to newborn children in the family and to beloved daughters going away to set up their own homes, since time immemorial.
Modern nakshi kantha no longer involves the use of old fabrics and neither are all motifs strictly traditional now. The nakshi kanthas now sold in Bangladesh are made on crisp cottons or silks and feature not just the traditional and simple straight running stitch but many more complicated stitches and designs. Despite the step-motherly attitude of the local Government, no organisation within the industry and definitely no recognition for the art outside of the regional circle, the art has survived and is now going strong.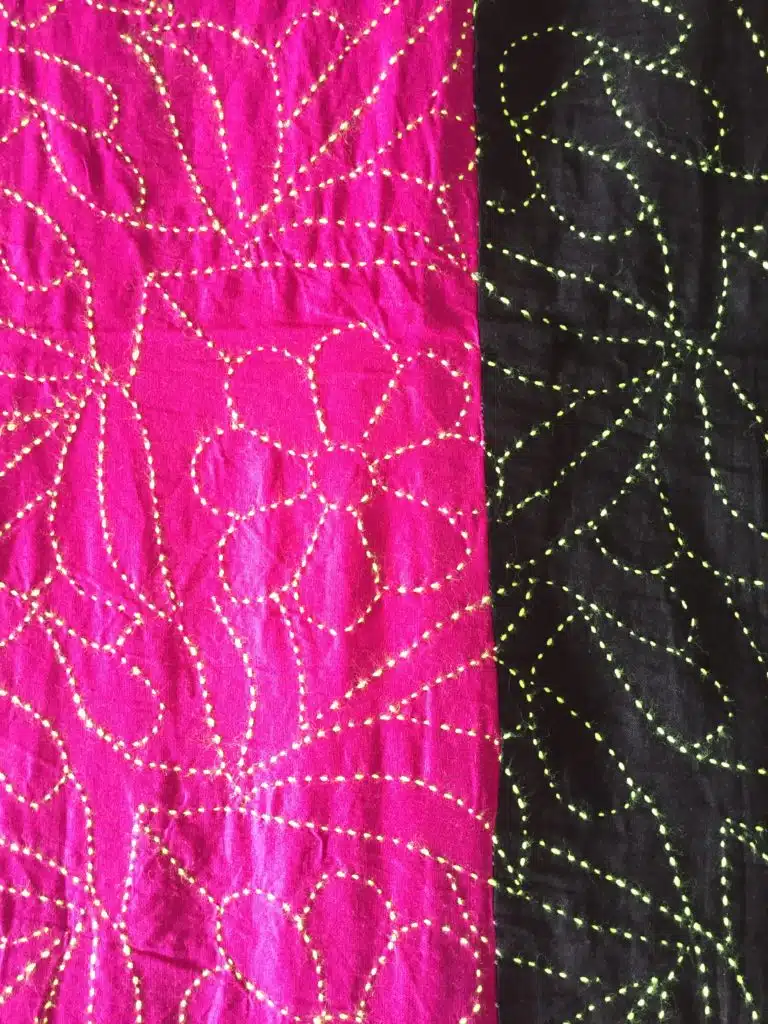 A Brief History of Nakshi Kantha
Nakshi kantha had always been a grassroots level industry in the interior and remote villages of Bangladesh. While the women worked in the fields most of the year, monsoons saw them spending most of their time indoors with needle and thread, realising their artistic outlets through nakshi kantha. Their beautiful nakshi kantha creations then took life in the form of quilts, blankets, bed sheets, tapestries and wall art. They were gifted around till someone finally thought of monetising their talent as an entrepreneur. That is when the products started getting recognition and hefty price tags in the urban Bangladeshi markets.
Even before that though, right from the time of the British Raj, the art of nakshi kantha has seen more than its fair share of ups and downs. In order to promote their own product, the British did everything in their power to kill the local cottage industries and promote their own imports. Notwithstanding their taxes and bans, they failed to eradicate the memories of this almost forgotten art from the hearts and minds of the locals. So when the British left, nakshi kantha revived itself on the fresh air that it could now breathe. People started making and gifting their quilts again and people started noticing the art as a cottage industry, albeit an informal and unorganised one. Still, Bangladesh almost lost the art form due to the Government's lackadaisical attitude towards the craft and its slowness in protecting it.
When the GI (Geographical Indication) laws were passed first in India and then more recently in Bangladesh, India had wasted no time in registering West Bengal's nakshi kantha as an indigenous product of India in 2008. This meant that the art form was given all the protection, encouragement, legal backing and tax assistance to flourish in India, while Bangladesh was still struggling with even recognising it. India successfully created a world market for its recognised 'nakshi kantha' according to the World Trade Organisation norms, while Bangladesh was still caught sleeping.
It is simply through the concerted efforts of organisations such as BRAC-Aarong, Kumudini Handicrafts and BRDB (Bangladesh Rural development Board) today, that the art form has been able to reach consumers not just in the cities but also worldwide, and the demand boost has helped in slightly organising a supply chain for the products. BRAC-Aarong today, not just makes and sells its own nakshi kanthas but it also legally sources some of their products from women organisations and rural communities, thus giving the art as well as the people associated, an economic return.
Short films that went international, like the movie 'Threads' also raised international awareness about this Bangladeshi art and showcased its hand in empowering economically and socially backward women here.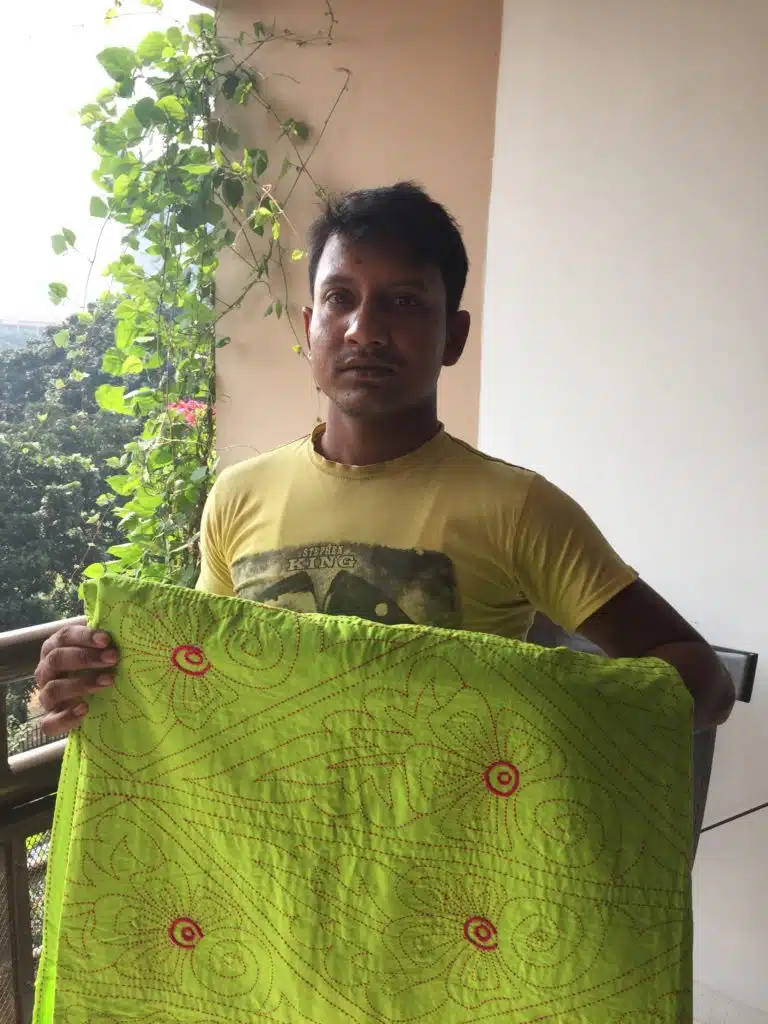 An Insight into The Industry
Recently I managed to interview* two nakshi kantha traders here in Dhaka, to understand their business model. The brothers, Uzzal and Mohammed Hussain, source their kanthas from Kushtia district (Kumarkhali upazilla) of Western Bangladesh and sell their products in cities such as Dhaka, to individual buyers as well as buying houses such as BRAC-Aarong and retailers in Gulistan. They have been doing business in nakshi kanthas and appliqué work quilts for a little over 4 years now. While Kushtia district is not known for the best nakshi kantha work, unlike Mymensingh, Jessore, Rajshahi and Faridpur are, there is still a demand for the products and they manage to sell anywhere between 6 to 10 kantha quilts on any given day.
When quizzed about the sourcing aspects of their small, two-brother business, this is what I learnt from Mohammed.
The brothers buy their cotton fabrics and threads (suta) by the lot, from Kustia itself. This bulk buying saves them money, while local buying keeps their transportation costs low. The fabrics as well as the the threads are then dumped at various individual houses in their village, including a gram-school. The fabrics that are supplied to individual homes have anywhere between 1 to 4 women working on each quilt at any given time, depending on the number of women in the household; while the ones given in the gram schools are often community projects with 6 to 12 women working on a single quilt. Hence, it takes anywhere between 1.5 to 7.5 months to finish a single queen-sized quilt, of course depending on the intricacy of work involved. The women of the village or karigars as they are called, are paid as little as 500 taka a month for their work. This is the usual case with all small traders and suppliers, while large outlets such as Aarong have their own factories and labourers, where large scale production takes place in a more organised and faster manner, and of course involves higher pay.
As Mohammed targets individual buyers, his experience of buyers is quite a limited one. He has mostly Pakistani or local Bengali buyers, while any salesperson of an Aarong or Kumudini outlet will tell you of mostly foreign buyers who buy their work and take them abroad with them. Of course the price differential between the local trader and the organised supplier are also drastically different. While a single quilt or tapestry can run in several thousands at Aarong, with Mohammed and his brother, it is a case of how much bargaining can they bear while still making a profit.
Sometimes they get bulk orders of 100 or 200 quilts, says Mohammed, and thats when both brothers makes the 1 full day travel to their village to conduct the raw material sourcing personally. At other times, periodic trips are made and these depend directly on the remaining stock, and usually entail travel by only one of the brothers. They have an loose team of about 65 women who work on their products in their village and bulk orders that require faster work entail a higher pay for the whole lot.
Current State of The Industry
When quizzed about their income and taxes, Mohammed refrained from commenting on the former but told us that they didn't pay any taxes.
This just goes to show how unorganised and informal this sector is and that the market is often a grey one, that sustains itself below any tax nets. Considering that tax compliance is so low even in the formal sectors of Bangladesh, this comes as no real surprise. However, this does point to the fact that should the Bangladesh Government decide to give this cottage industry a boost through subsidies and tax benefits, most of the village craftswomen and the small scale traders associated with them would hardly get the benefits. While the Government has neither shown proactive interest nor an earnest desire to identify and protect Bangladesh's local folk arts, nor have they provided these products with a viable and easy marketing channel, independent and private agencies have com forward to help.
For example, non-profit organisation such as Development Wheel (DEW) have taken up the initiative to reach deep in the rural interiors and provide small scale, independent producers with product development training, credit education and skills development training to empower them further. Additionally, they have provided them with a viable marketing channel to sell their products at a price that sustains their industry as well as their households. With the key aim of alleviating poverty in these areas, the organisation has managed to bring together local producer groups, especially in Dhaka, Jessore, Bogra, Manikgong, Tangail and Jamalpur, to work together and get more artisans involved in the production of handicrafts such as nakshi kantha. They have been doing a commendable job thus far and will continue to do so.
I hope the Government can only wake up soon and protect, promote and develop this cottage industry with keen desire and persistent efforts. It stands to benefit not just the people, but also the country and its representation in the world.
** Interview conducted in Bangla and translated by Murshida Akhter