How to Pick a Diwali Getaway Destination Near Pune & Mumbai?
So, we all have been stuck at home thanks to this ridiculous pandemic that came out of nowhere and hit our lives like a roadblock!
I mean, who would have thought that in today's day and age we would be going back to the basics. Staying home, avoiding travel, avoiding unnecessary expenses (who knows how long this is going to last!) and being thankful each day for the likes of electricity, and cell phone data, and wifi and more!
Who would have thought that in a world where time is money, we would be sitting at home enjoying our family time (albeit with a laptop in front of us, for some of us 'work-from-home-ers') day in and day out, for 7 days a week!
Gasp!
Yeah, I know. My heart is sinking and I am getting those palpitations too (and the goosebumps on my arm). It has been too long since I ventured out, far too long, far far too long.
For someone who calls herself 'perpetually in transit', you can only imagine how bad things really are!
But never fear, things are getting better (slowly and marginally, but better nevertheless) and we can indeed travel now, with a truck load of do and don't instructions and a ton of excess baggage when you calculate things like a kilo of sanitizer (or is it a litre, oh well, I am sure you'd understand either way), a bag full of masks and a diary full of COVID-proof hotel and resort options!
So, if you stay in Pune, or Mumbai, or anywhere in Maharashtra for that matter, I have something you may like. Something that may help you out with your travel plans for this Diwali. Especially if you are planning to get away for the Diwali long weekend which falls on the following days this year:
14th Nov (Saturday) – Diwali
15th Nov (Sunday)
16th Nov (Monday) – Bhaubeej, Bhaiyaduj or Bhaidooj (as you choose to call it)

So if you are looking for inspiring weekend getaway destinations in Maharashtra, quite specifically near Pune and mumbai, we have the ebook given below on offer for FREE!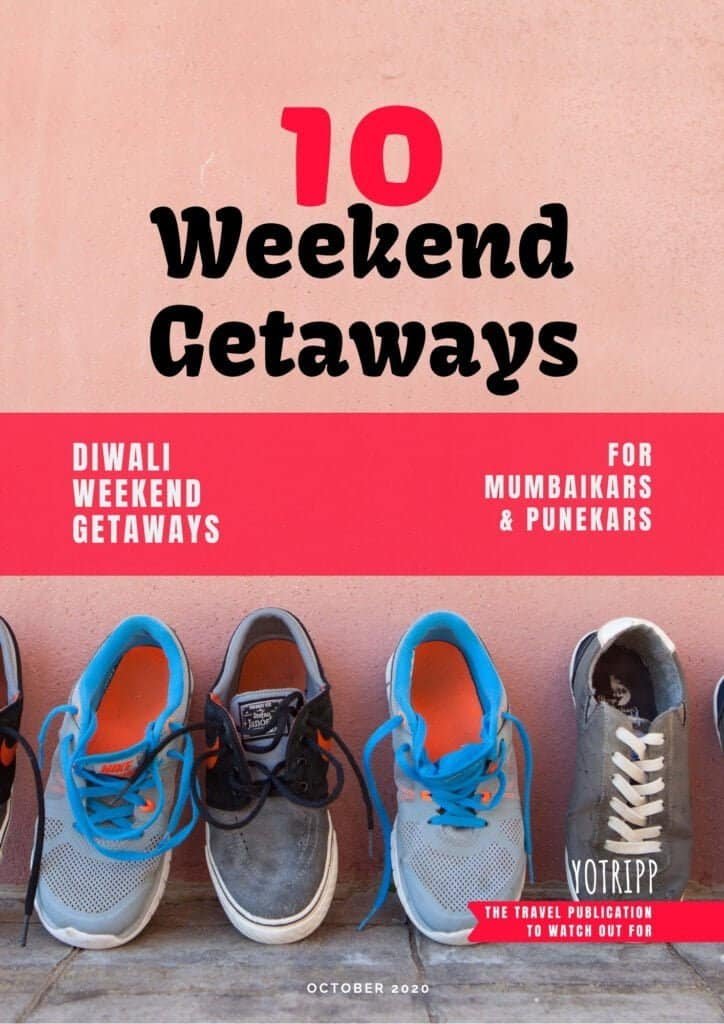 The ebook, as the name suggests, lists out 10 amazing destinations near Pune and Mumbai that you can go to during that long Diwali weekend. In other words, it is the perfect inspiration book if you are planning a Diwali getaway with your family or a loved one.
This is no typical book. It does not go over the usual weekend destinations such as Lonavala, Mulshi and Lavasa. It takes you to some fantastic, lesser-known, hidden gems too.
So if you'd like this book for FREE, just click here to register and we will send it out to you for FREE, within 24 hours. All you need to do is plug in your name and your email and we will mail out your ebook in a jiffy.
Don't sit on the fence, GET THE BOOK now!
Here's a sneak peak at the book so you know what you're getting.
Like it? Go on, get the book NOW.
Here's the link again –
DIWALI GETAWAYS NEAR PUNE & MUMBAI EBOOK
P.S I am taking my blog to the next level by participating in Blogchatter's My Friend Alexa challenge.